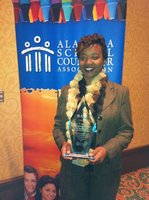 Melba Shanks , RAVE Award, NBCT
Greetings,

My name is Melba Johnson-Shanks. I have over 17 years of counseling experience 6 years in an agency counseling and 11 years in a school setting. My educational journey began in the Birmingham School System. I am a 1994 graduate of Wenonah High School. Apon graduation I went to the University of Montevallo to obtain a Bachelors Degree in Education.I am the recipient of the Minority Teachers Scholarship from the University of Montevallo 1994-98. I received a Masters Degree in Counseling from Alabama State University in 2001 .
I am the first National Board Certified School Counselor in the Bessemer City School system. Bessemer, Alabama. I have received the Bronze Award in 2011 , Silver Award in 2012, Gold Award in 2013 for Recognition of Accountability , Verification, and Excellence (RAVE) Award for School Counselors in Alabama.

As a professional school counselor I make sure the needs of students, parents, faculty, and community are met through annual assessments and consistent monitoring . As the counselor I provide large group guidance, small groups, and individual counseling. I also work with community agencies to provide referrals to students and families in need.
Melba Johnson-Shanks, M.S., NBCT
To see some of the great things we are doing in the counseling center click on the Photo Album icon or the Presentation icon for photos and a power point presentation.
Melba Johnson-Shanks, M.S., NBCT
Professional School Counselor