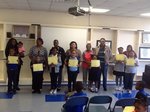 Being Proactive and Beginning With the End in Mind
Look Who Was 'Caught' Being Proactive
We are a Leader In Me School.
Today the Panther Nation celebrated our leaders who have displayed the character traits of Habit #1, Be Proactive, and Habit #2, Begin with the End in Mind. The Abrams scholars were selected by their homeroom teachers for being leaders in the classroom setting and throughout the campus.
The process of being a leader starts at home and together we will create young leaders for the future! Congratulations to our parents for being leaders and great examples.