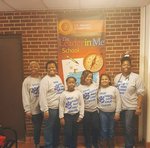 Day #4-5 of College and Career Week
Create a College Poster and Go To College
What an Awesome Career & College week at Panther Nation!!!
Kudos to principal Dr. Armentress D. Robinson and
Great Job to our NATIONAL Board CERTIFIED
School COUNSELOR Melba Johnson-Shanks for a wonderful week!
Day #4--Create A COLLEGE Poster and identify the Career Clusters
Day #5--Go to College Be a "Jean-ious"
We ALL had on jeans and our Leader in Me Fall SHIRTS.