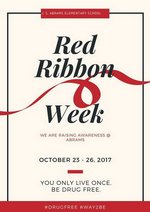 Red Ribbon Week
Drug Free For Life
For Red Ribbon Week, we spread the knowledge and importance of drug prevention.
*We teach kids how to develop good habits early in life
to help them achieve future success.
*We focus on educating and promoting a drug-free life, schools and communities.
Day 2: Give Drugs the Boot!
Day 3: Black Out Drugs!
Day #4 Join the A-Team Against Drugs--Wear Camouflage