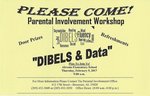 Please Attend!
Door Prizes! Refreshments!
Please make time to attend our Parental Involvement Workshop. We will discuss our recent DIBELS scores and Data for all students. There will be door prizes and refreshments.
Place: Abrams Elementary School
Date: Thursday, February 9, 2017
Time: 9:00 a.m.
For more information please contact: The Parental Involvement Office
Located at: 412 17th Street
Bessemer, AL 35020
Office Hours: 8:00 a.m. to 4:00 p.m.
(205) 432-3049 or (205) 432-3050